Learn to Surf on Lanzarote: 5 Reasons Why This Stunning Island Is Perfect for Beginners
Discover La Geria – the wine path on Lanzarote
Learning to Surf in Europe? Try Booking a Surf Trip to These Unique Destinations
There are countless places around the world that offer surf lessons for wave riding hopefuls, but only a handful that will totally blow your mind. Check out our list below if you're learning to surf in Europe and consider booking a trip to one of these unique destinations.
When learning to surf in Europe, you should always book a destination with a good reputation for waves. But in addition to the quality of the surf, things like the natural scenery, local cuisine and the uniqueness of the surf culture in the area are also worth considering.
With this in mind, we here at Red Star Surf have put our salty, sun-bleached heads together and come up with a few places we believe offer a truly exceptional learn to surf experience. So sit back, have a read and put these epic locales at the top of your must surf before I die list.
Famara, Lanzarote, Spain
Picture yourself learning to surf in Europe in warm water? Then perhaps a trip to the Spanish island of Lanzarote is on the cards.
With its volcanic landscape, rugged coastline and exposure to Atlantic Ocean swells, Lanzarote is a veritable surfer's paradise. Famara in particular is but one beach within a natural park that's become a water sport hotspot. Thanks to the fact it consistently delivers great conditions for beginner surfers during both the low and high tides.
This means that booking a surf lesson or surf camp at Famara beach represents great value for money. Especially considering you can receive coaching from our experienced instructors. From choosing the right equipment to standing up on your first wave and beyond. We'll make sure your learn to surf experience is fun, rewarding and memorable.
Unstad Beach, Nordland, Norway
Learning to surf in Europe at a place within the Arctic Circle might not be everyone's cup of tea, but that's exactly what makes Unstad Beach such a unique destination.
Situated in the Lofoten Islands, this beginner surf spot in Norway attracts adventurous wave riders from around the world. All of whom are drawn to its striking mountain backdrop and distinctive surf culture. Although the waves aren't half bad either, however, the lack of daylight during winter means that timing your session is everything.
On the flipside, you can essentially surf all day and all night during the summer thanks to the never-setting sun. That is if you can brave the water temperature that sits at 8 – 14˚C throughout the entire year. This leaves you no option but to wear a full wetsuit, gloves, boots and a hood, which may not be as appealing as wearing boardshorts or a bikini at our surf camp.
Playa de Berria, Cantabria, Spain
Located in the north of Cantabria, Berria is a very exposed beach break with very reliable swell. The area offers smooth and easy waves for beginners and intermediate level surfers, so it's ideal for surfers that are starting. Waves break left and right along the beach line, and tide isn't an issue. The beach has a series of unique characteristics that makes it ideal for learning how to surf and one of the best options is with Watsay Surf School
Watsay surf school & Camp is much more than just a camp. Obviously, the main activity is surfing but they don't just stop there, they organize summer activity camps in Cantabria that include multiple activities such as: small trips, horsebackriding routes, boat trips, beach games, climbing, skateboarding and much much more.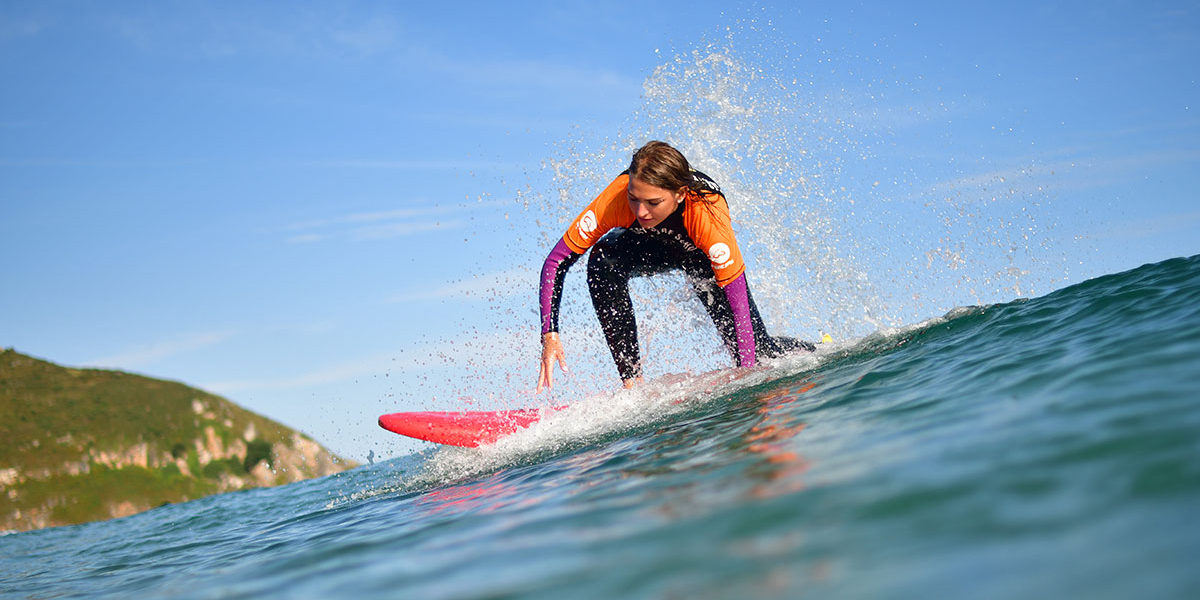 Southern France and Portugal have long since been the most popular destinations for people who want to learn to surf in Europe, but Galicia in the north of Spain is worth a visit if you want to escape the crowds.
Playa de Razo, for example, is an expansive beach break that attracts a great deal of swell, even when other spots are flat. For this reason, there is almost always a peak for you to surf on. In addition to the fun waves, the lineup at Playa de Razo also serves as the perfect viewing point from which to look back and observe the stunning Galician coastline.
Good beach facilities, great accommodation options nearby and the fact its remains relatively uncrowded outside of the summer months are also huge bonuses. So if you are thinking of learning to surf in Europe somewhere that flies under the radar, Playa de Razo may just be the place for you.
Book a stay with Red Star Surf and discover why Lanzarote is one of the most unique learn to surf destinations in Europe and the world